Home | About The Artist | Bear Gallery | Order Info | Shipping Info | Wholesale | Contact Us | Email | Links
Friends
and
Bear
Necessities
Where Bears and Bear Friends Come To Life...
BB Bears are the most special bears you'll find on this planet! There are four bears to choose from, each in their own beautiful color. There's Sweet Honey, Winter White, Chocolate Brown and Coal Black. Each bear is hand stuffed, sewn up and dressed up with an elegant bow. We can even match the bow to fit "your" special celebration. So, if it's a graduation, a new baby, or any holiday, we can make sure your bear is dressed for the occasion! BB Bears can sport the latest styles in eyeglasses if you choose, and you can even attire your bear in our "one of a kind" outfits, which are viewable on our shopping page.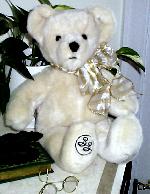 You can only find BB Bears at one location - with us.....the creators. BB Bears stand 18 inches high and are reminiscent of the Old Time Bears of yesteryear, when bears were ultrasoft and huggable. What makes our bears unique is the special soft stuffing we use and our proprietory design. Each bear is made of the finest plush material available and hand stuffed with a special polyester fiberfill that makes these bears extra huggable and also hypo-allergenic. You'll be pleased to know that BB Bears are handmade in the USA.

The design of our bears is what makes them stand out from all others. The ears are slightly oversized and give the bear a lovable look which will make you want to hug and kiss them often. The nose is furry, and the mouth is embroidered. The eyes are black and snapped into the bear body with grommets, which make them very difficult to remove without scissors. Beautiful to look at and comforting to hold, our bears have safety considerations already built in and are made of the finest quality materials. No hibernating here-we'll bet BB Bears will quickly become an important member of your family. All bears are finished after stuffing by hand sewing, and each gets a full inspection by the Artist before leaving the "Bear Cave". All BB Bears will come with a Birth Certificate which can be filled out by the owner, making your bear just a little more unique.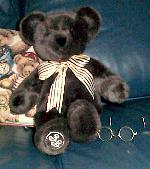 When a BB Bear gets dirty, and we know they will from all the love and attention they'll get, you can spot wash with mild soap and water, Woolite and water or Bubble Gund solution. They can be tumbled dry in the dryer on low (delicate) to cool air until dry. They even like an occasional brushing to plump up the fur after a wash.

We truly hope that you will love your BB Bears for ever and will send our bears to your family and friends. You're sure to bring smiles to everyone's face when they receive one, two, .....or all four.

Please take a look at all the other friends and fun things we sell at B.B.Bears and enjoy your shopping experience. We welcome your feedback.


Have a BEARY SPECIAL DAY!
We accept


Home | About The Artist | Bear Gallery | Order Info | Shipping Info | Wholesale | Contact Us | Email | Links
BB Bears-bbbears4u@yahoo.com
BB Bears-PO BOX 99566, Raleigh, NC, USA 27624-9566
(919)844-5645
Virtual Raleigh Online Guide